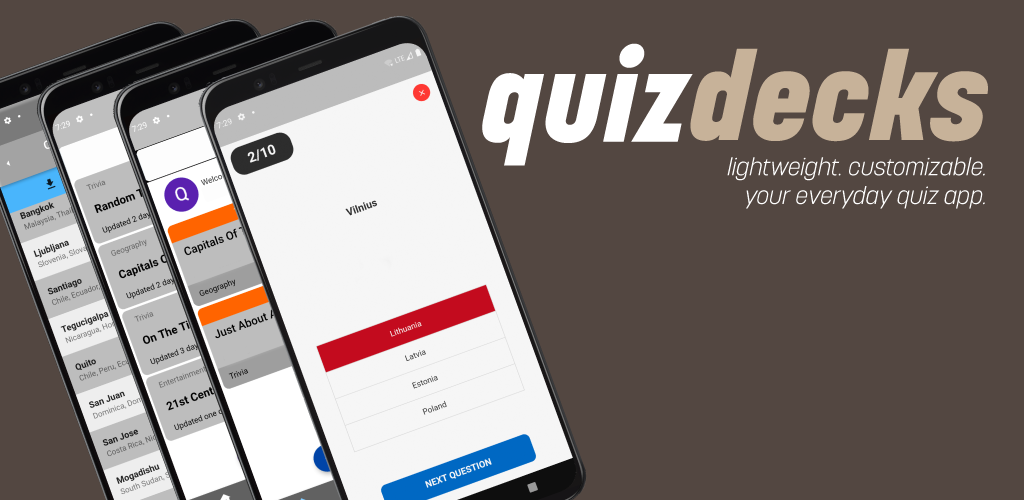 This is the home of QuizDecks; a mobile app developed for people who like quizzes, create reviewers, as well as challenge their knowledge to everyone.
QuizDecks is a lightweight, minimalist quizzing buddy that you can install and use on your phone and tablet.
It offers you a multiple-choice quizzing experience, which is perfect for getting back at items when you got them wrong at first.
You wanna start right away?
Well then, take quizzes uploaded to the cloud by searching for topics, and add them to your list of decks.
Of course, create your own deck and cards, then either share them to the world or make it just your own. These decks and cards are just completely editable whenever words are not quite right for you. Furthermore, make your own decks something you can take on your won by using the Add Home feature.
In addition, share your decks to your fellows via QR code. You can also ask your friends to share their decks to you.
Features
Search and add decks of quizzes in the cloud
Scan QR code of decks from your friends
Option to review your answers after taking the quiz
Create and edit decks and cards
Totally editable contents
Customise quizzing style with start timer and right/wrong indication
QR code for sharing with your friends
Dark Mode
There are more to come in future releases…
---
Watch the Video
Stay tuned for the upcoming introductory video.
---
Download the App now!